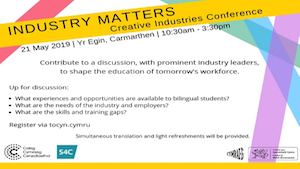 Creative Industries Conference 
An opportunity to contribute to a discussion, with prominent industry leaders, to shape the education of tomorrow's workforce.
A networking event for employers, apprenticeship providers, Further Education and Higher Education Institutions. Focusing on the opportunities and experiences within the industry that are available for students studying through the medium of Welsh or bilingually.
For more information contact: a.jones@colegcymraeg.ac.uk
Register via:
https://tocyn.cymru/en/event/7cb8d75f-a10a-4037-af24-366d92fcc881