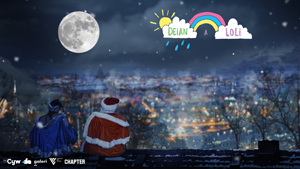 Come on over to start the festivities with us at Yr Egin with a premiere of Nadolig Deian a Loli – a film for the whole family! 
It's Christmas Eve and Deian and Loli are bubbling over with excitement and running riot around the house! But little do they know that they're being watched by Celyn and Telyn – the mischievous little elves on the shelves!
The twins must hurry to the North Pole to stop the elves from telling Father Christmas all about their misdemeanours. But there is something – or someone – much worse waiting for them in Santa's cabin, that threatens to ruin Christmas forever!
Free but you must order a ticket!
Sold out! Thank you for your interest, this show is now sold out, if you would like to join the waiting list please call 01267 611 600 or e-mail helo@yregin.cymru, thank you.