Sowing the Seed of Success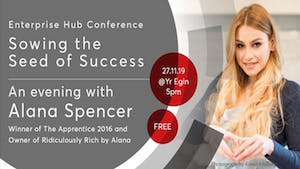 An Evening with Alana Spencer, Winner of the Apprentice 2016
The Carmarthen Enterprise Hub can't wait to hear about Alana's inspirational business journey along with other guest speakers. Alana has achieved great success in the Welsh food and drink sector and currently runs her prosperous business Ridiculously Rich by Alana.
The evening conference is designed to help us all explore entrepreneurship and innovation in Wales. You will have the opportunity on the night to ask Alana and guests questions.
Alana's brownies will be served with coffee at the end too!
For more information and to register:
https://www.eventbrite.co.uk/e/sowing-the-seed-of-success-conference-tickets-76408230073