The Library Suicides (15)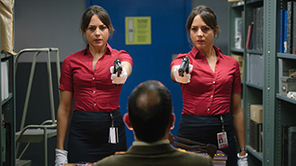 "There's plenty to admire about this nifty, twisty Welsh-language thriller from director Euros Lyn." Little White Lies ★★★★
Directed by Broadchurch's Euros Lyn and written by award-winning novelist Fflur Dafydd, this Welsh-language tale of revenge sees twin daughters set a trap in the National Library of Wales for their novelist mother's murderer. 
Cast includes Sharon Morgan, Ryland Teifi and Catrin Stewart.
Language: Welsh with English sub-titles
Screening will be followed by Q & A with both Writer/Producer Fflur Dafydd and Director/Producer Euros Lyn.
Supported by Film Hub Wales as part of the BFI Film Audience Network (FAN)
Total Seat: 60
Register Now: