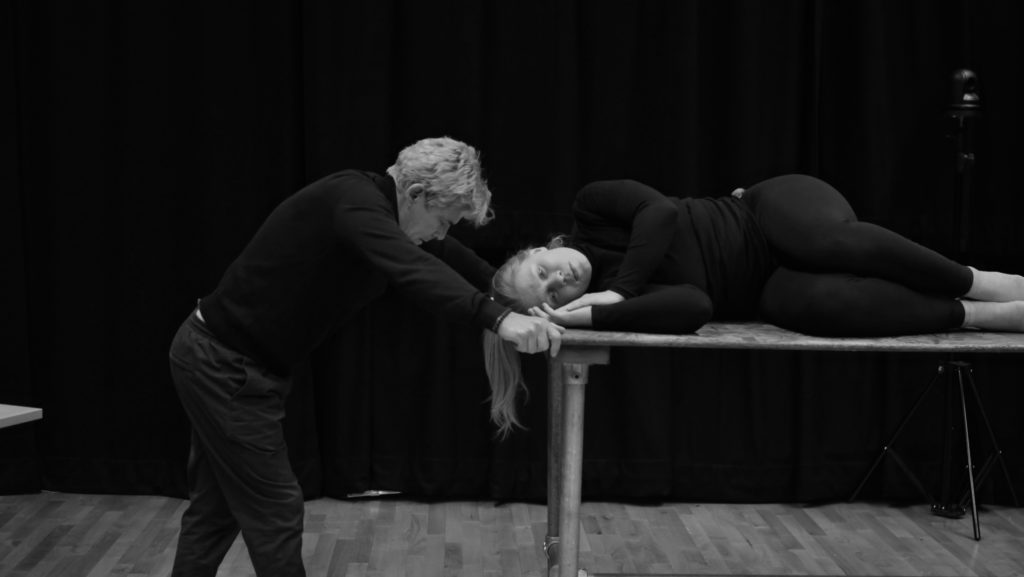 It has been an exciting start to the year at Canolfan S4C Yr Egin, as international performers have arrived here to work on a research and development project called 'Aurora Borealis'.
The performers have travelled from all over the world to be part of the work – Ashley Dowds from South Africa, Emilie Hetland – a Norwegian actress who lives in Ireland, Siggi Ingvarsson from Iceland and Siwan Morris from Wales. In addition, Siri Wigdel, who is originally from Norway but has now settled in Wales, is responsible for choreographing the drama.
'Aurora Borealis' is a verbatim play, based on specific evidence collected by the play's director, Ian Rowlands, in Iceland along with several other countries. The aim by the end of the research and development period is to establish the text, the performance style and the physical language of the piece with the intention of creating a full and ambitious drama that will tour the theatres of Wales before long.
Ian Rowlands said about the project and the process of developing the work,
"Over the years, I have met a number of people, from all over the world, who have been kind enough to share their stories with me, all of them having experienced some kind of personal revolution. They have trusted me with their history and therefore, I have tried to interweave the stories as well as contrasting the experiences and use them as a basis for this play. I started writing it in Iceland about two years before Covid-19. Although I have held several online sessions with the actors, this is the first time most of us have met face to face. I must admit, most of the work so far has been a process of discussion. It's important, because I strongly believe that through dialogue, by expressing ourselves creatively, we can claim our place as Welsh people on the world stage."
This rehearsal period has been an experience and a half for the actors too, says Emilie Hetland from Norway,
"This is the first time I have worked in Wales, and it has been great to meet my fellow cast members in the flesh. Now that we are working face to face, the play has come alive for me. We are beginning to understand the poetry of what Ian has written. Working on a research and development project is great as it gives you the opportunity to play with the text and to explore it – you can discover through different processes what this play could be. So many ideas are generated in the rehearsal room – it's great to be part of something that's full of imagination."
Welcoming international practitioners to Carmarthen is an opportunity not only to raise the profile of the town and Wales externally but also it means that students and Yr Egin's creative community can be inspired by discussions and creative experiences. Creative Writing BA students and Applied Drama: Education, Wellbeing and Community BA students at the University of Wales Trinity Saint David will attend rehearsals during the research and development period to observe the work, together with the 'Slic' crew, a group of young people who meet weekly at Yr Egin, to gain experience in various creative fields.
Carys Ifan, director of Canolfan S4C Yr Egin, said,
"The Egin is here to allow budding ideas to grow and one way of making that come true is by carrying out research and development projects and offering space and favourable conditions. I am delighted that we're able to collaborate with Ian Rowlands, who is such an experienced playwright and director who lives here in Carmarthen, to develop "Aurora Borealis" and maintain a valuable dialogue with international partners. Our thanks go to the Arts Council of Wales for supporting the project."
The research and development work together with evaluation work will continue at Yr Egin until the 20th of this month and will include a performance of the piece in progress, before considering the next steps of the project. If you would like to watch a live stream of the performance, which will take place on the 19th of January, contact us on helo@yregin.cymru. 
You can watch a promotional video to learn more about the project and it's content here.
The project is funded by the Arts Council of Wales.
More Information:

Catrin Reynolds Chapple, Communications Officer and Digital Content
catrin@yregin.cymru
07805 301 948